Ready to Take Home IN-Stock Combo Deals

Struggling to find pieces that fit perfectly together and enhance a room? INspirations Combo Deals are created by our Lead Interior Designer, and curated to blend into your home seamlessly. With brands like Natuzzi Editions, Flexlux, Alf Italia, and KARE Design you'll be sure to find a package that suits you! All Combo Deals are IN-stock and ready for delivery.
CD #2: Lucera Sectional Combo Deal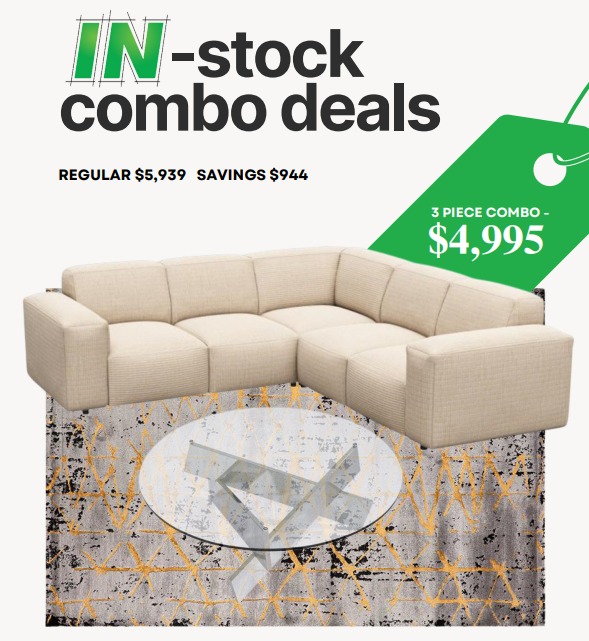 Lucera is a decorative lounge sofa. The low seat and rounded elements make the sofa a true design statement. A unique details of the design is the visible stitching throughout. The sofa is simple yet unique. Paired with timeless pieces, this combo deal lets you embrace your space.
The 3 piece set includes:
- Lucera Sectional Natural Beige Fabric
- Cerchio Coffee Table Glass, Chrome Base
- Cosmic Rug 5.3x7.7'
CD #7: Astor Dining Combo Deal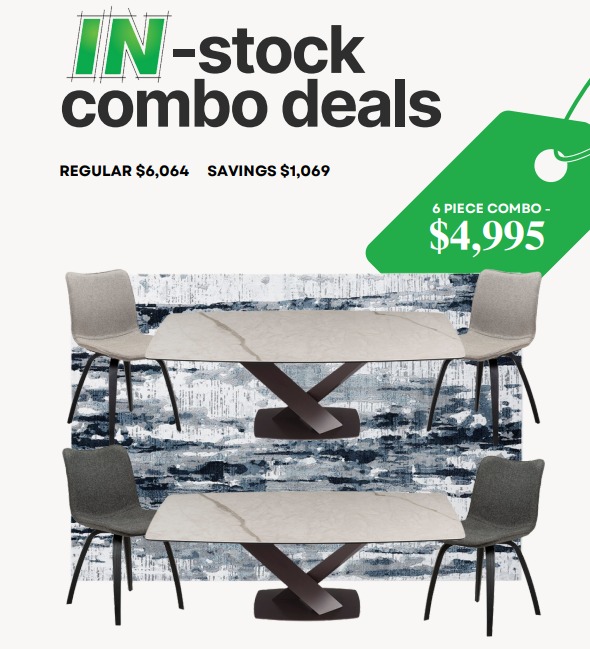 The 6 piece set includes:
- Astor 100x200 Antracite Base
- Glee dining Chair Pebble Grey Fabric Swivel Metal Base x 4
OR
- Glee dining Chair Pebble Earth Fabric swivel Metal Base x 4
- Palmyra Rug 5x8' Multicoloured
CD #24 KARE Infinity Combo Deal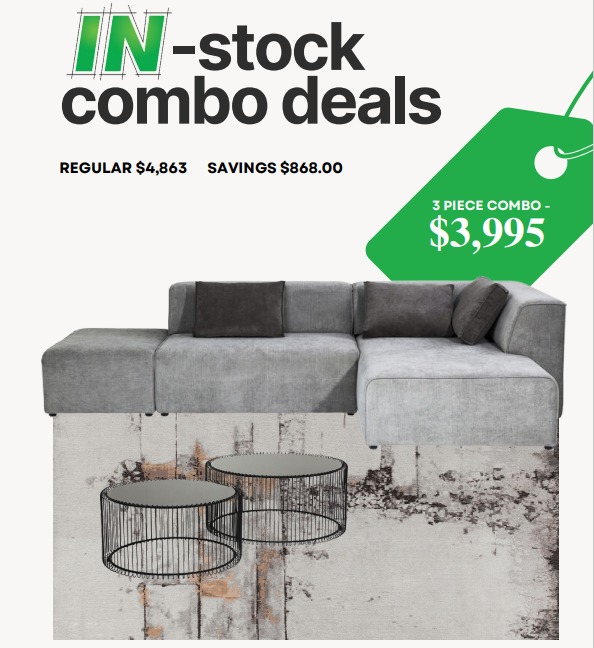 This 3 piece set includes:
- Infinity Sofa w/ottoman chaise left or right fabric grey
- Coffee table wire black 2-set steel powder coat temp glass
- Abstract grey line rug or abstract rug dark blue 240x170cm
 --
STORE HOURS
Monday - Saturday - 10am - 6pm
Sunday - 11am - 6pm
VANCOUVER 
1275 West 6th Ave.
Vancouver,
BC V6H 1A6
COQUITLAM
1348-C United Blvd.
Coquitlam,
BC V3K 6Y2